Holland House Colombia's Board of Directors appoints new president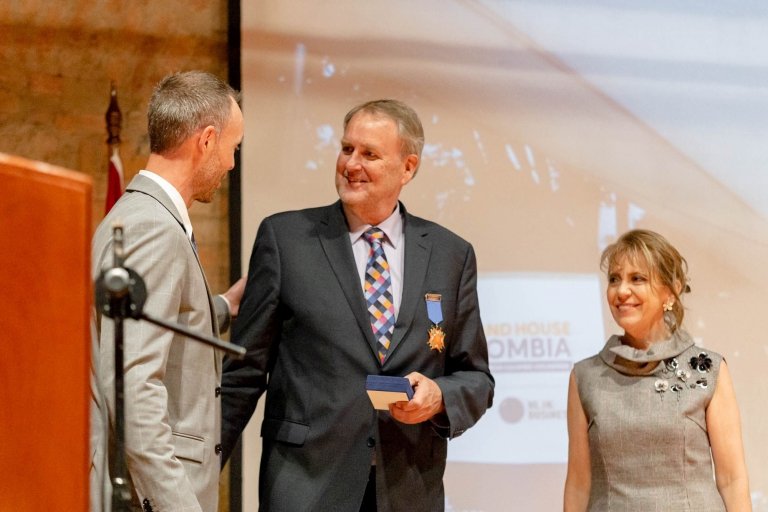 After eight years, Peter Snoeijenbos decides to pass on the baton of the presidency of Holland House Colombia.
Peter Snoeijenbos, who served as president of the Board of Directors of Holland House Colombia for 8 years and works as Regional Sales Manager in the Dutch company Marel Andina, decided to pass the baton and leave his place to Angela Liliana Sanchez Rojas, who has been part of this Board for four years and is a partner in the tax consulting area of PricewaterhouseCoopers. The decision was announced on September 1.
We say goodbye to Peter with deep gratitude, because he has been a fundamental part of the growth and development that Holland House Colombia has had in recent years. His confidence in our Chamber and the constant support has allowed us to be one of the main bilateral Chambers in Colombia today. That is why he will always be an essential member of this Holland House Colombia family and will leave a permanent mark. With the closing of this chapter, we wish him the best. We are sure that he will continue to reap professional and personal successes.
"I am very proud to be part of this successful project called Holland House and to have contributed to its development since its foundation. It has been an honor and a pleasure to work each of these years with Jan W. van Bokhoven and his enthusiastic and professional team. It has also been very satisfying for me as a member (chairman) of the Board of Directors to contribute to the great relations between Colombia and the Netherlands, both countries to which I am deeply connected" said Peter Snoeijenbos.
Angela, who becomes Chairman of the Board of Holland House, is a lawyer from Pontificia Universidad Javeriana. She obtained an LL.M with a focus on taxation from Temple University in Philadelphia, PA, USA. She specialized in Commercial Law at the Universidad de los Andes, and in Corporate Law and Tax Law at the Universidad Javeriana. In 2006 she was admitted as an attorney of the State of New York. Ángela is currently a member of the IFA (International Fiscal Association), as well as of the Colombian Institute of Tax Law ("ICDT") and is a partner in the tax consulting area of PricewaterhouseCoopers.
Angela Sanchez Rojas has been a member of Holland House's Board of Directors for four years.
"Many thanks to Holland House and its team, as well as to Peter and all the board members for their vote of confidence in this new role, which is a great honor and commitment for me. You can count on my support for the continued growth of the chamber, the development of its programs, strategies and objectives for the members. I put at your disposal all my collaboration and dedication to assume the presidency of the board of directors in a coherent and responsible manner." said Angela.
We wish Angela the best for this new challenge and we are sure that, as she has done as a board member during the last four years, she will be the president that will guide and inspire us to continue to grow and face the challenges ahead.
To learn more about our Board of Directors and its members we invite you to visit the following link: https://hollandhouse-colombia.com/nl/ons-verhaal/ons-team